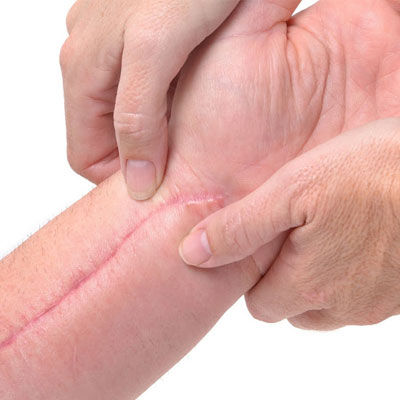 Scars are unsightly marks on the skin that occur as a result of some trauma, injury, accident or surgery. There are various kinds of scars and post-surgical scars are one of them. In some cases, post-surgical scars fade away on their own while sometimes, they require proper treatment. There are various treatments to get rid of post-surgical scars like creams and ointments, surgical scar revision and laser treatment. Laser treatment is the most effective and safe method to get rid of post-surgical scars among all the treatments. If you want to get rid of any kind of post-surgical scar, you can get it treated at Laser Skin Care by experienced laser specialist.
The post-surgical scar is in fact formed as a result of some surgery in which incisions are involved. In most cases, they start becoming fading and disappear in a couple of months or years. But in some, cases they even become worse and expand like keloid scars. Such scars look unsightly and unpleasant but laser treatment is quickest, safest and most effective non-surgical procedure for the treatment of post-surgical scars.
The Machine We Use
The Laser Machine used for treating post-surgical hypertrophic scars at our clinic is DEKA Smartxide Fractional CO2 Laser.
Some of our Best Post Surgical Scars Treatment Results are:
  

Laser treatment for post-surgical scars
Laser is the most popular procedure that is in use for the treatment of number of cosmetic problems. There are various kinds of laser that are in use for treatment of different conditions. Fractional laser or fraxel laser is the type that is used for scar removal. Laser scar removal is also a non-invasive and advanced approach to treat post-surgical scars. It is a powerful technology that treats scars without harming the surrounding skin. The results of laser for this purpose are excellent and cause very less discomfort. The Laser Machine used for treating post-surgical hypertrophic scars at our clinic is DEKA Smartxide Fractional CO2 Laser.
Procedure of laser treatment for post-surgical scars
During the procedure of laser treatment for scars, short pulses of micro-fine laser are used to make scars less visible. They penetrate the deep layers of skin and treats the support structure of skin and also boost the collagen production. Older damaged tissues of skin are removed as a result of healing process and new fresh layer of skin appears. It is a brief, simple and easily tolerable procedure that does not require downtime. It takes as little as 30 minutes of time depending on the size of scar. More than one sessions are required for this purpose and with every next session scars lightens and finally disappears. The procedure works on every type of skin whether it is dark or light. Most patients prefer to get Post Surgical Scars Treatment in Dubai or other UAE states just because the cost of procedure is quite less as compared to developed countries.
Benefits of laser for post-surgical scar removal:
It requires very little or no downtime depending on the post-surgical scars.
It is a quick, painless and non-invasive remedy for post-surgical scars.
There is no discomfort or pain felt during the procedure and the possible discomfort can also be avoided by applying anesthetic cream.
The outcomes of the procedure are excellent.
The procedure requires no time for healing or recovery. You can resume your activities just after the procedure.
Side effects of laser for post-surgical scar removal:
There are very less side effects are associated with the procedure that are not permanent.
Slight redness or bruising occurs on the treatment area that subsides in time period of few days.
There are very rare chances of risks of prolonged itching, darkening or lightening of skin, burns and bruising and this only occurs if treatment is not performed correctly.
Here at Laser Skin Care Clinic, experienced dermatologists and laser specialist offer their expertise and you will surely get successful and beneficial results. To know more about Post Surgical Scars treatment in Abu Dhabi, or any other UAE state, contact us now by filling the FREE ONLINE CONSULTATION form below.
Related posts
---
Three cheers for Olimpia Carmen, my laser expert. I have undergone numerous laser treatments at Laser Skin Care including Laser Hair Removal and Acne Scar Treatment. The latest procedure I have had done at the clinic was to get a surgical scar removed that I got after C Section. After just five sessions of Fractional CO2 skin resurfacing, my belly is now smooth and clear as if I have never undergone a surgery. Thanks Olimpia!
---
I am writing this to thanks Olimpia and Laser Skin Care for helping me get rid the appendectomy scar. I am very fussy when it comes to even small scratches and you just imagine what would have been my condition after getting that raised scar on the side of my abdomen after appendectomy. But thanks to Olimpia and her team that helped me get rid of this unsightly scar within a couple of months after getting it. Thank you all.
Free Consultation
Complete the form below and we'll give you a call back to arrange your consultation.